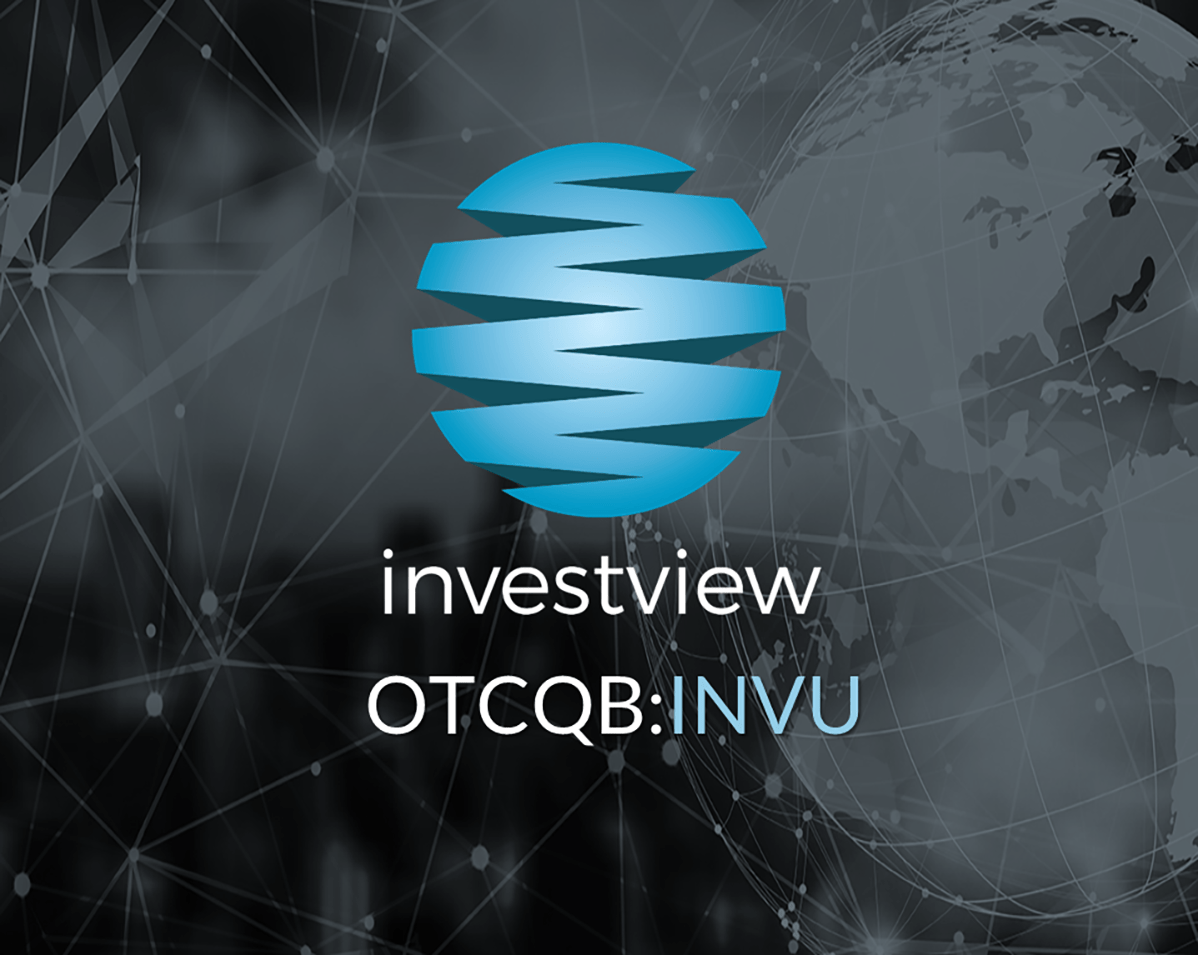 History
Investview Inc., since its inception, provided investor education services to self-directed investors. In late 2016, the company did not receive a committed round of capital funding due from a funding entity that was not able to close. This left the company with an inability to continue operations.
Wealth Generators LLC, a private company, founded by Ryan Smith, Chad Miller, Annette Raynor and Mario Romano desired to have their growing company become public. On April 1st, 2017 Investview Inc. acquired Wealth Generators, LLC providing Investview the ability to continue operations and Wealth Generators the public structure they desired.
The Founders of Wealth Generators enabled the acquisition of their company by Investview for three primary reasons:
1. Transparency to the Public
2. Ability for any individual to participate in the future growth of the company
3. The ability to establish institutional funding relationships to support worldwide growth
After the acquisition in April of 2017, the former board and management of Investview stepped down and the current Corporate Management team and Board members were installed. At the time of acquisition, Wealth Generators LLC generated gross revenues for 2016 of $12.9 million dollars.
On March 1st, 2018 the name of Wealth Generators was changed to Kuvera to establish a "brand" with global appeal and awareness.
In May of 2018 we began the process of relicensing our entity SAFE Management LLC to serve as Registered Investment Advisor and Commodity Trading Advisor. SAFE completed the relicensing process in December of 2018 and provides "managed" trade services to those who lack the time to trade for themselves.
In November of 2018 we established Kuvera France to expand our direct marketing operations through the Eurozone.
Through a joint venture in the first quarter of 2019, we established the unique product offering called APEX which we market through our entity Apex Tek, LLC. Apex packages that are sold are leased back from the purchaser by SAFETek LLC - our entity who will establish high speed data processing and mining services in multiple facilities worldwide. Formal launch of both entities took place September 1st, 2019.
As we prepare each of the subsidiaries for growth in 2020, our primary objective will be reaching profitability. Investview management will be expanded to meet this objective while improving the awareness of our company, and our capitalization and financial requirements.
Timeline of Accomplishments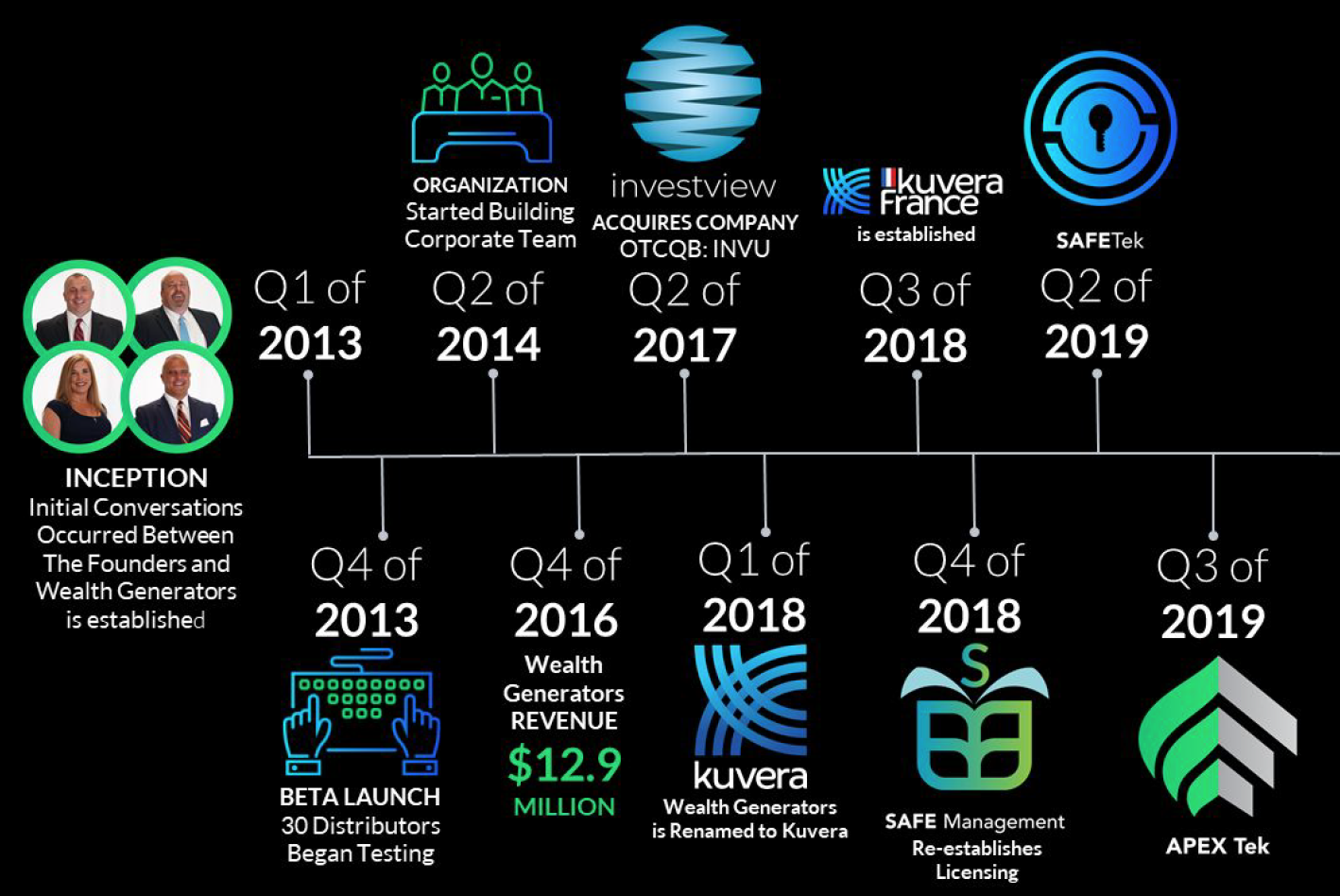 Operating a public company is a significant challenge, but the Corporate Team has met this challenge head on while continuing to increase revenues, expand global reach, acquire assets and bring new products, companies and technologies to market.
Investview is committed to continuing this pace of innovative growth and acquisitions.
Vision
The core founding principle is to enable individuals to have access to tools, information, research, and emerging markets around the world. We believe global inequality can be addressed and we believe our subsidiaries can meet this need with an objective of empowering people to achieve prosperity.
Initiatives
Our initiatives push the boundaries of the status quo constantly challenging us to new and innovative ways to bring emerging growth opportunities to the masses. It requires us to embrace concepts such as cryptocurrency and develop paths that enable participation in highly technical areas such as big data, artificial intelligence, and the "Internet of Things."
Our Companies
Investview's largest subsidiary is
Kuvera LLC
, which delivers financial education, technology and research to individuals through a subscription-based model. Kuvera, LLC provides research, education, and investment tools designed to assist the self-directed investor in successfully navigating the financial markets.
These services include research, trade alerts, and live trading rooms that include instruction in equities, options, FOREX, ETFs, binary options, crowdfunding and cryptocurrency sector education. In addition to trading tools and research, we also offer full education and software applications to assist the individual in debt reduction, increased savings, budgeting, and proper tax management.
Each product subscription includes a core set of trading tools/research along with the personal finance management suite to provide an individual with complete access to the information necessary to cultivate and manage his or her financial situation. Kuvera operations are located at Salt Lake City, Utah headquarters location.
kuveraglobal.com
Kuvera France S.A.S.
is our entity in France that will distribute Kuvera products and services throughout the European Union.
S.A.F.E. Management, LLC
is a Registered Investment Adviser and Commodity Trading Adviser that has been established to deliver automated trading strategies to individuals who find they lack the time to trade for themselves. SAFE is committed to bringing innovative trade methodologies, strategies and algorithms for all worldwide financial markets.
SAFE Management is a state registered investment adviser and operations are located in Eatontown, New Jersey Corporate Finance location.
safeadvglobal.com
SAFETek, LLC
(formerly WealthGen Global, LLC) is a new addition that we established for expansion plans in the high-speed processing computing space. SAFETek will deploy a large scale processing operation that is used for any of the following intense processing activities: protein folding, CGI rendering, Game Streaming, Machine & Deep Learning, Mining, Independent Financial Verification, and general high-speed computing. Key trending markets for Data Computation include Internet of Things, Smart Homes, smart cities, smart devices, Artificial intelligence, blockchain technology, Virtual Reality, 3D animation, and health technology data to name a few.
safeteksolutions.com
Apex Tek, LLC
(formerly Razor Data, LLC) is the entity responsible for sales of the Apex program. Launched in September 2019, the Apex product pack includes hardware, firmware, software and insurance that can be purchased and then leased to SAFETek LLC. Apex is a technology asset that creates passive income for those who desire to diversify their holdings.
apextekglobal.com