New Client Referrals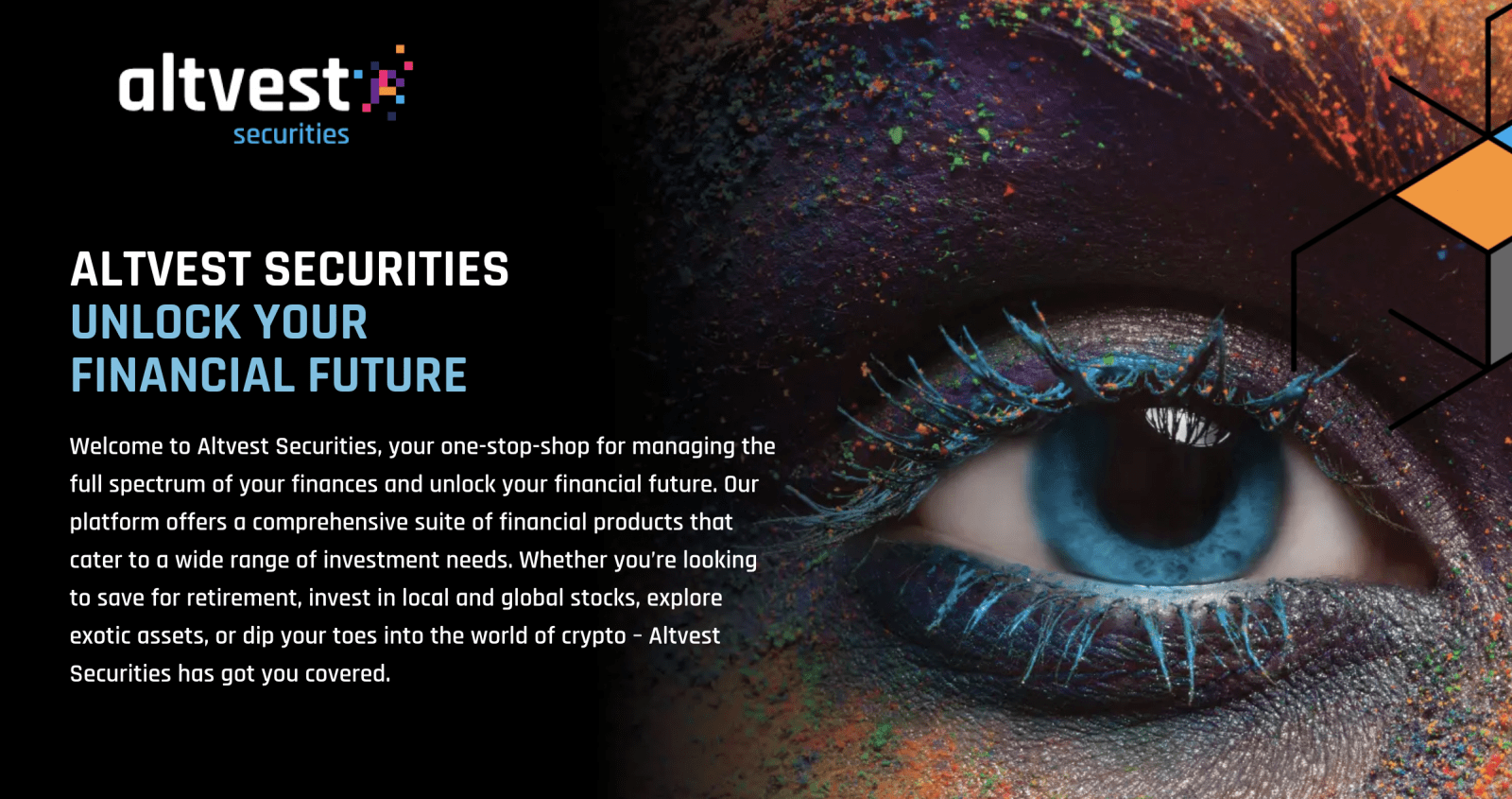 Altvest Securities launches one-stop-shop for managing the full spectrum of your finances and unlocking your financial future
Apr 04, 2023
Altvest Securities launches one-stop-shop for managing the full spectrum of your finances and unlocking your financial future.
Altvest Securities announced the launch of their new online platform offering a comprehensive suite of financial products that cater to a wide range of investment needs. Whether you're looking to save for retirement, invest in local and global stocks, explore exotic assets, or dip your toes into the world of crypto – Altvest Securities has got you covered.
Altvest Securities offers a range of financial products to suit every investment objective. Here are some of the products you can access through our platform:
Retirement: Planning for your retirement is important, and we aim to offer various retirement products that can help you achieve your retirement goals. Our retirement products are designed to offer you a low-cost avenue for saving towards your retirement.
Local and Global Stocks: With Altvest Securities, you can invest in a range of local and global stocks. We offer a user-friendly trading platform that provides you with all the tools and information you need to make informed investment decisions.
Exotic Assets: We understand that some investors may want to diversify their portfolio by investing in assets that are less conventional. Our platform provides access to a range of exotic assets, including fine art, wine, and more.
Crypto: The world of cryptocurrency is constantly evolving, and we offer our clients the opportunity to invest in this exciting new asset class. Our platform provides access to a range of cryptocurrencies.
Altvest Securities ambition is to democratize access to financial investments by providing low-cost avenues to financial products for our clients and educating them on the various financial products out there.
We believe that everyone should have the opportunity to invest in their financial future and aim to provide a platform that is the perfect tool to do so.
Learn more
here
About Capital Engine®
Capital Engine
®
provides forward-thinking organizations with efficient and scalable private capital and investor management solutions, for both traditional and digital assets.
Built for high-performance capital raising, our technology helps leverage the opportunity to better originate and showcase a diverse selection of private investment deals and offer these to investors i.e. a deal's potential viability can be better assessed, market appetite determined and transaction promptly closed.
Our clients include broker dealers, family offices, wealth managers, incubators, accelerators, social impact and real estate funds, in providing customized SaaS solutions to power private capital and alternative investment platforms, with a strong focus on investor management services.
Interested in raising capital
Request a Demo