RAISE CAPITAL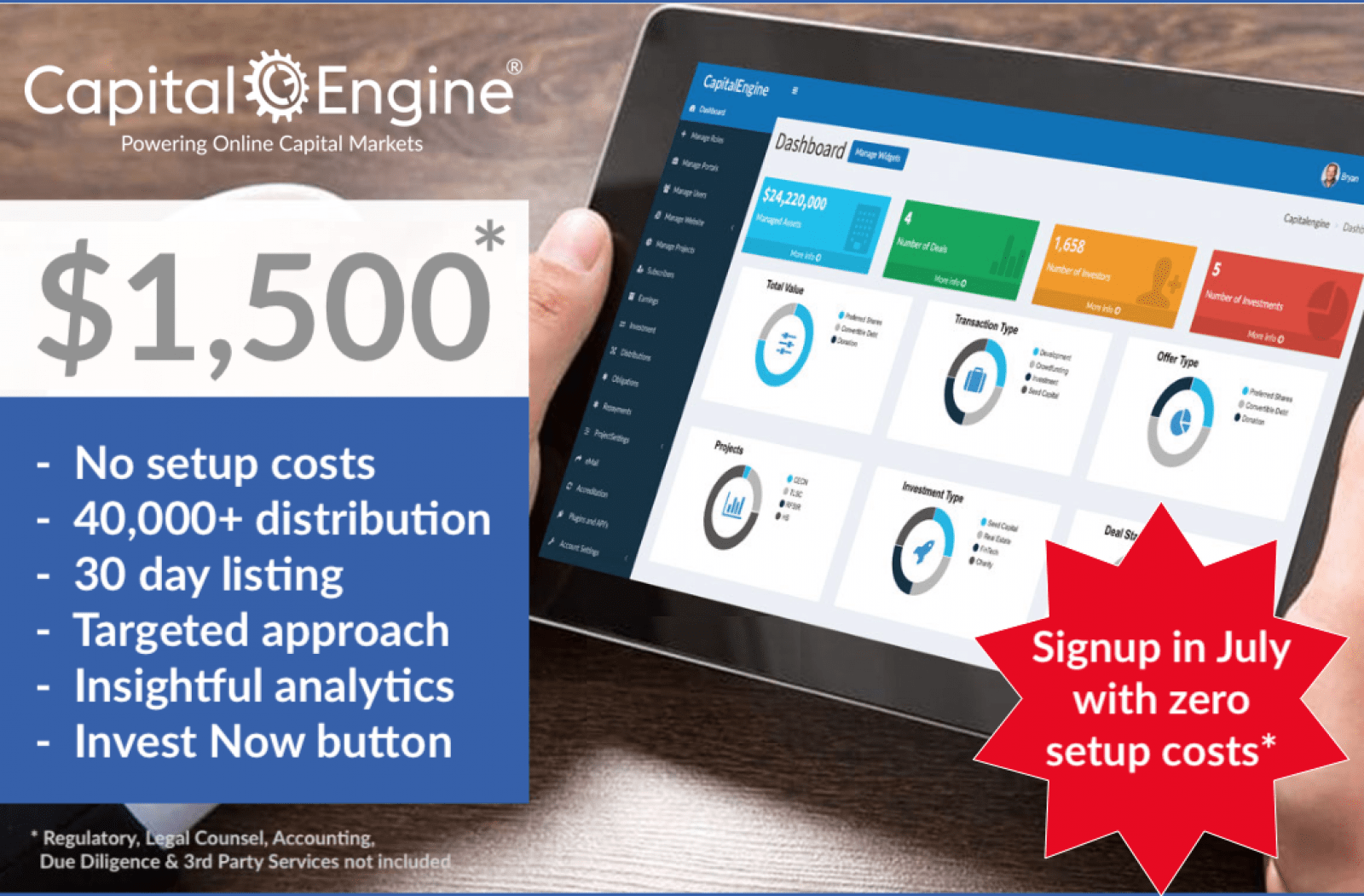 LOOKING TO RAISE CAPITAL IN THE US
Jul 05, 2021
We raised over $2M through our Capital Engine® Marketplace in June 2021 and one of clients Investview has recently closed their $6M funding round using our comprehensive, integrated suite of digital investment tools, back office technology and distribution platform for raising private capital.
If you are looking to raise capital in the US using Reg D 506c or Reg CF (through our partner) exemptions, we are waiving our one time setup costs for issuers who signup in July 2021.
July promo: $1,500 listing fee / month* and waiving our $2,000 setup and launch fee. There are no other contingency based fees or commissions.
* Flat fee per month (minimum 3 months). Reg D filing is a prerequisite for listing on the Capital Engine® marketplace.
A Reg D filing is a prerequisite for listing on the Capital Engine® marketplace — if your legal counsel hasn't done this yet, we can assist for $2,000.
Any regulatory, offering/legal documents, legal counsel, accounting, due diligence and 3rd party services that you may require for your offering not included in promo.
Capital Engine® Marketplace
Our online marketplace is filling a massive gap in the US market in funding private capital markets and alternative investments: Reg D 506c and Reg S (International) based real estate, venture capital, healthcare, renewable energy and social impact projects.
Our clients include broker dealers, family offices, wealth managers, merchant banks, incubators (demo days), social impact and real estate funds in providing customized solutions to power private capital and alternative investment platforms, with a strong focus on investor management services.
Capital Engine® is not licensed by or registered with the U.S. Securities and Exchange Commission, FINRA, or any other financial services regulator. Specifically, Capital Engine® is not a FINRA registered Broker Dealer and does not offer or sell securities, or engage in any other Broker Dealer activity.
Contact us at
invest@capitalengine.io
or
Get a Demo